Dentures in Boise, ID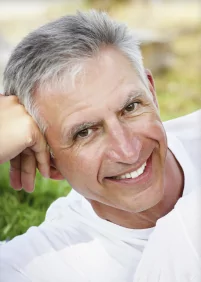 Do you have missing teeth? Losing teeth can impact not just your health, but also your self-esteem. If you're experiencing discomfort or reluctance to smile or socialize due to gaps in your teeth, Blaisdell Family Dentistry is here to offer compassionate and comprehensive solutions. We specialize in a range of denture services to restore the natural function and appearance of your smile. Call our office today to learn more or to schedule a consultation!
What Are Dentures?
A denture can be a great option for those who would like a fresh smile! At Blaisdell Family Dentistry, we offer several denture options to repair the gaps in your smile. Dentures are custom-made replacements for missing teeth and can be taken out and put back into your mouth.
While they take some getting used to, and will never feel exactly the same as natural teeth, today's dentures are natural-looking and more comfortable than ever. They are typically made from a combination of metal and acrylic, which allows them to be strong and durable while also being lightweight and aesthetically pleasing. Dentures can help fill out the appearance of your face and profile, improve chewing and speech, and promote better oral and overall health.
Whether you require partial dentures for a few missing teeth or full dentures for a complete restoration, our Boise office is equipped to cater to your needs. Our custom denture options are designed to blend seamlessly with your natural teeth, promoting not only aesthetics but also improved oral function.
---
How Do Dentures Work?
There are many different types of dentures that work in different ways.
Traditional Dentures: The traditional form of dentures works by fitting over the gums where natural teeth once existed. Upper dentures have a flesh-colored acrylic base that covers the palate (the roof of the mouth), while the lower denture is shaped like a horseshoe to accommodate the tongue. Dentures are custom-made in a dental laboratory from impressions taken of your mouth, ensuring a snug and comfortable fit.
Implant-Supported Dentures: With advancements in dental technology, there are now various denture designs, including ones that are supported by dental implants in the jaw. For instance, the All-on-4® treatment concept involves securing the denture plate in your mouth with four strategically placed dental implants, offering a permanent solution that mimics the feel and function of natural teeth.
Denture Benefits
Functional: Dentures allow you to regain the full functionality of your mouth and smile. The All-on-4® treatment concept, which anchors dentures with four implants, is particularly effective for stable and worry-free daily use.
Beautiful: Dr. Blaisdell is dedicated to providing dentures that closely mimic the look of natural teeth, boosting your confidence to smile freely once more.
Long Lasting: We craft our dentures from high-quality materials to ensure longevity, reducing the need for frequent replacements.
---
Get the All-on-4® Treatment Concept in Our Boise Office
The All-on-4® treatment concept is a state-of-the-art denture technology that is permanent and tremendously beneficial for those who choose this option. As the name implies, the All-on-4® treatment concept is a type of implant-supported denture that is held securely by four permanent and extremely stable tooth implants. This means you don't need to worry about foul-tasting bonding agents used in the attachment of the denture or worry about your dentures accidentally popping out on you.
---
Permanent Solutions with Implant-Supported Dentures
For a more permanent fix, consider our implant-supported dentures. Unlike traditional dentures, these are anchored securely to dental implants, providing a fit that feels natural without the use of adhesives. These dentures offer a significant improvement in comfort and functionality, closely resembling the feel of your own teeth.
Why Choose Permanent Dentures on Denture Implants?
Permanent implant dentures represent a revolutionary leap in dental prosthetic technology. Unlike traditional dentures that rest on the gums, implant dentures are anchored firmly to the jawbone, providing unparalleled stability and function. This innovative solution is ideal for those seeking a permanent fix to tooth loss without the common hassles associated with conventional dentures such as slippage, dietary restrictions, and the need for adhesives.
Choosing implant-supported dentures means opting for a life-changing investment in your oral health. They help maintain jawbone integrity by providing the stimulation your bone requires to stay healthy, which also aids in preserving your facial structure. Furthermore, they function much like natural teeth, enabling you to enjoy a broader range of foods and speak with greater confidence.
Additionally, permanent implant dentures offer a sense of permanence and security that removable dentures cannot match. There's no need for nightly removal or special cleaning routines. Your dental care involves the simple, familiar practice of regular brushing and flossing. By choosing implant dentures, you're not just enhancing your smile; you're embracing a durable, long-term solution that's as close to natural teeth as modern dentistry offers.
---
Same-Day Dentures in Boise
For those needing an immediate solution after extractions, Blaisdell Family Dentistry provides immediate, or temporary, dentures. This option prevents any time spent without teeth, allowing you to continue your daily life with confidence as you heal and wait for your permanent dentures to be crafted.
What Are Immediate Dentures?
An immediate (temporary) denture is a complete denture or partial denture inserted on the same day, immediately following a tooth extraction. Immediate dentures are not supported by dental implants.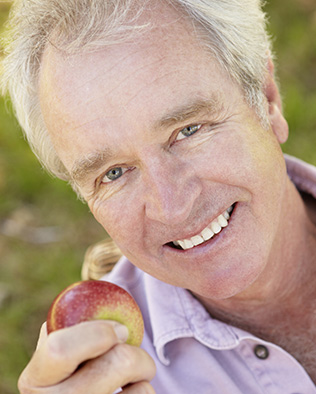 What are the Benefits of Immediate Dentures?
The main benefit of temporary dentures is that they eliminate the possibility of a patient appearing toothless in public following an extraction procedure. An immediate denture also has the following benefits:
Protects tissues following extraction so that they may heal.
Allows patients to speak and chew.
Minimizes sunken, hollow look to the face that missing teeth cause.
You can receive immediate dentures on the same day that you undergo a tooth extraction.
Who Benefits from Immediate Dentures?
Immediate dentures are ideal for individuals who have undergone extractions and seek an immediate temporary solution during the healing process before receiving their customized, permanent dentures.
---
Schedule a Denture Consultation in Boise, ID
If you would like to learn more about the All-on-4® treatment concept or other procedures for your damaged or missing teeth, we urge you to contact our Boise office near Eagle and Meridian ID as soon as possible. Contact Dr. Blaisdell and his exceptional team for your beautiful, custom, and high-quality dentures now!