Boise, ID, Dental Crowns Dentist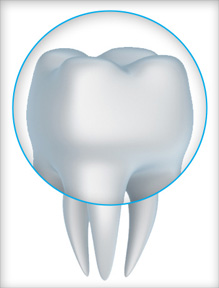 A tooth crown is an artificial cap for teeth that replaces the visible portion of your tooth. A tooth crown can be placed on your natural tooth roots, on a dental implant, or be held in place with a partial denture. The dental crowns Dr. Blaisdell places are functional and beautiful. Most people will never even notice that your tooth crown is not your natural tooth but a cap.
Why You Might Need a Dental Crown
Dental crowns are versatile restorative solutions tailored to address a multitude of dental issues. Here are a few scenarios where Dr. Blaisdell might recommend a dental crown for you:
Tooth Decay: When a cavity is too large for a standard filling, a dental crown can offer the necessary coverage and protection.
Broken or Fractured Teeth: For teeth that have been chipped, broken, or fractured, crowns can restore their shape and functionality.
After a Root Canal: Post root canal treatment, teeth tend to become fragile. A crown strengthens the tooth and prevents it from breaking.
Cosmetic Enhancement: Uneven, misshapen, or discolored teeth can be aesthetically corrected with the precision placement of a dental crown.
Tooth Wear: For teeth that have been worn down over time, due to conditions like bruxism (teeth grinding), crowns can restore their original size and structure.
If you are dealing with any of these concerns. orhave questions about how to fix your smile, call our team in Boise to learn more!
Receiving Dental Crowns at our Boise Office
Consultation: Dr. Blaisdell will meet with you in Boise to determine if a tooth crown is indeed what you need and if so, which dental crowns are best for you.
Preparation: A cap for teeth can be placed on your tooth roots or a dental implant. If your natural roots can be used, the visible portion of the tooth will be reshaped to fit your new tooth crown. If your dental crowns are to be placed on implants, the cap for teeth is simply attached to an abutment on the implant.
Placement: Once the surface of your natural tooth or dental implant has been prepared, the cap for teeth is permanently attached.
Tooth Crown Benefits
Dental crowns are great tools for restoring and boosting your smile and oral health. Here are some benefits crowns can bring you:
Protective Barrier: Dental crowns act as a shield, safeguarding the underlying tooth from further damage or decay.
Chewing Efficiency: With the robust nature of our crowns, patients can enjoy an uninterrupted eating experience, even with foods that are tougher in texture.
Speech Improvement: Misaligned or missing teeth can impact speech. Dental crowns can help in rectifying such issues, leading to clearer pronunciation and boosted confidence during conversations.
Enhanced Beauty: The dental crowns placed by Dr. Blaisdell are tailored to match the color, shape, and size of your natural teeth, ensuring a flawless and harmonious smile.
At Blaisdell Family Dentistry, we believe in the transformative power of dental crowns. They not only restore the health of your mouth but also uplift your overall well-being and confidence.
Schedule a Tooth Crown Appointment Near Meridian and Eagle, ID
A visit to our dental office in Boise will help determine whether a dental crown is right for you. If you have questions about tooth crowns or you'd like to schedule, please call, text, or fill out the contact form on this page! We look forward to meeting you!